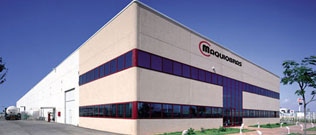 MAQUIOBRAS S.A.
was founded as a family-run company in Saragossa in 1984 by
Mr Félix Ferruz
, current Honorary Chairman, to operate in the field of
manufacturing and marketing of formwork systems and construction machinery
. Today,
MAQUIOBRAS
has kept its family structure and is run by the second generation of the Ferruz family.
All our activities are conducted at our modern facilities located on a 20,000 square-meter site in Villanueva de Gállego. Our design and manufacturing process has adapted over the years to include the most modern production standards required by our demanding sector.
This permanent dedication to ongoing improvement and innovation is the basis for the trust that the most prestigious companies in the industry have placed in us, proof of the reliability and quality of our products
, essential characteristics in the construction industry.